You are currently browsing the category archive for the 'Uncategorized' category.
As of this writing, it is April 28th, 2016. We have suffered the devastating loss of the Artist Forever Known as Prince. We have learned that Harriet Tubman will grace the front of the $20 dollar bill sometime after 2020. We know Beyonce has dropped her album, her tea, but not Jay-Z after a possible cheating scandal, yet still scalped the heads of the masses like Jesus Christ returning for the Rapture. We have knowledge that half of our favorite primetime dramas are returning this fall, the newest meme trends that will dominate this summer, and we are confident that despite a nice try from Warner Bros. with Batman v. Superman, Marvel Studios is still the undisputed champion of the comic book movie genre.
What we DON'T know is the theme for American Horror Story Season Six. And that, readers, is a goddamn tragedy.
Again, it is 2:26PM, Thursday, April 28, 2016 and we still have no clue whatsoever what Ryan Murphy, Brad Falchuk, Lady Gaga, Evan Peters, Sarah Paulsen, etc have up their sleeves for the next season of FX's unapologetically addictive horror anthology. We have "clues." We have "rumors." We have those somewhat blatantly fake (but not to basic fans) posters floating around with the subtitles "Camp," "Boarding School," and "Cruise." But what we don't have is CONFIRMATION, something we, as fans, should have had by now. Yes, there have been longer wait periods in the past, with Asylum possibly ranking as THE longest. But even then we still had some concrete information of that particular season taking place in a haunted institution and it would be set in the past. Clues from the latter episodes (barring Freak Show, where clues for Hotel were sprinkled throughout the entire season) helped fans narrow down the theme for the next season and while there might have been several in Hotel, the weren't as glaring as earlier years nor discussed in length this year. If they were, then I missed out on that conversation entirely, which is not impossible. But I digress. We're going into May with no idea what Ryan and Brad is conjuring and that is nerve-wracking to the core of my soul.
So what's the hold up? Are Ryan and Brad finally working on giving us TWO iterations of American Horror Story this year? Are they stuck on picking one of said two ideas and trying to figure out if they could (or rather should) merge both into one cohesive narrative? Do they need help in the writer's room? A colleague and I are available for retainer if needed…
All in all, we're six months away from the premiere of American Horror Story's sixth season and while that is an ample amount of time for Ryan and Brad to write, cast, change their minds, and rewrite, I just want one morsel of confirmation on what's to come so I can prepare accordingly. Akin to the BeyHive members who made passive aggressive videos and memes borderline taunting Beyoncé to drop her album, I'm hoping this post will 'encourage' Ryan and Brad to give the AHS stans something to chew over until this summer's onslaught of teasers/promos gives us much more life than we deserve. It will make up for the lack of info from PaleyFest this year, which I and several other fans are still reeling from.
But knowing the Murphy/Falchuk dynamic, they are probably working on a reveal/press release/announcement video as I type this and by the time this post publishes it will already be too late and irrelevant. And that would be perfectly fine, because at this stage of the game, I just want something. ANYthing. But until I am hit with news that will leave me convulsing in the middle of my work place for three hours straight (I work at a library and they've already been forewarned to not interrupt my AHS related freak outs), I will continue to hit the refresh button on Deadline, Entertainment Weeky, Variety, and TVLine's respective and reputable websites.
Thoughts?
(Editor's Note: This post was exactly 666 words long and by it being about American Horror Story, I had to add one word to offset the juju. You can tell your thoughts if you want… Or not.)
They say a writer always have "writer parents" who influence that particular writer's own craft and inspires them greatly. Well today is Stephen King's, one of my "writer's parents," birthday and I wish him many more. Thank you, Mr. King, for not only inspiring me, but also scaring the living hell out of me as well.
May you have many more!
Hey, may I tell you something? Okay. I'm gonna need your undivided attention…
All day I've been thinking about you. Thinking of looking deeply into your eyes, holding your hand, softly caressing my cheek against your cheek… Essentially loving you. Loving everything about you.
I've been dreaming of us slowly dancing under the clear well-lit night sky, the stars charting a clandestine future unbeknownst to us as we sway effortlessly in sync to each other's rhythm, representing our lights and darknesses as they swirl into a warm and welcoming gray.
I long to feel my heart beating madly against yours. I long to sense the air you breath flowing gently through your lungs. I long to delicately cup your chin in my hand and whisper gently to you, face to face, how much I love you; how much I deeply, irrevocably love you. I long to get lost in your eyes and your world. I long to become one unbreakable unit, one singular entity, one powerful existence.
This… This is what I have been thinking about today. And that's all I have for now.
Any questions?
Kevin's Wild World
Let's be honest: We have all had moments in the past that, if frozen in time, would make us the seventh man to land on this list. We all struggle with highlighting the good and minimizing the bad, and there is nothing wrong with having a few traits that you might want to downplay on your résumé. But if you are a gay man who's been dating long enough, chances are you have had the displeasure of running into a few men who exhibit more than just a couple personal flaws. These men are true character monsters, and they are the people dating nightmares are made of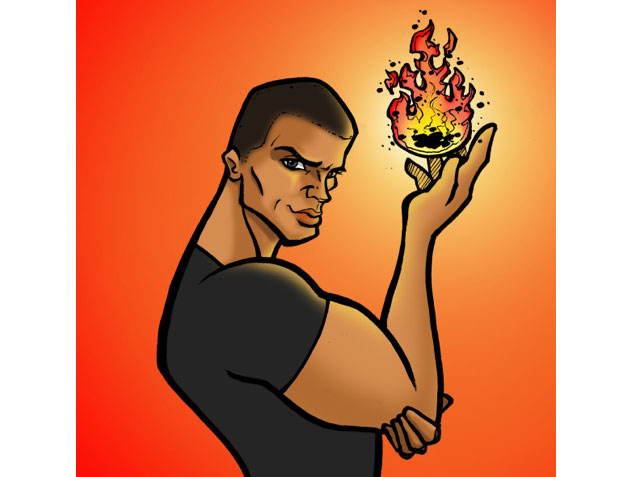 The Fire Starter
This man's spark may draw you in at first. He is magnetic and kinetic, and the sex is probably the best you've ever had. But the more you get to know him, the more you start to realize the heat…
View original post 684 more words
Well, where to begin…
If you've stumbled across this blog then I don't know if you have interest in the mundane or you might've heard about me from someone else and decided to do some investigating. Either way, welcome!
Who am I? Well, that can only be answered with surface verbs, or rather things that people can tell without digging deep. I'm a pop culture/TV blogger for TVOvermind, which is owned by Jon Lachonis (Doc Arzt), and my Twitter handle is @theanticritic, which is where I spend some of my online time. In the "real world," I'm a part time librarian and writer (and I do my best stuff when I'm depressed or highly intoxicated). In 2008, I graduated from the University of Tennessee Knoxville with a degree of Bachelor of Arts with a major of Creative Writing. This was pre-economic crash in 2008, which is why I'm still begging someone to put me behind a desk some place where I won't have anything to deal with but other cubicles. I can do cubicles, people. I want to do cubicles. Trust me, after doing public service for 10+ years, you would want to do cubicles, too.
I come from (and unfortunately) still reside in a small town, which is ass backwards when it comes to technology, ideals, and more. I still get strange looks when I mention some of the stuff that went/goes down here from my friends from other parts of the country. Seriously, we are basically in the heart of the Old South and we're still haunted by the ghosts of losing the Civil War. The bad part is that people still want to be haunted by it. Not me. Let it go, move on and prosper for the Love of God…
I'm African-American, but some people might not say I fit the stereotypes of most African-American males my age (or any age period) and I'm proud of that. When you box yourself in expectations, you miss out on a lot. Trust me.
I guess you will learn more about me as life goes on, but be forewarned: I can post happy and I can post dark, so don't whine at me about your day being ruined after reading something I had on my mind that day. You might call my mood swings bi-polar tendencies, but I call it an equal balance of light and dark, which we all have inside of us. I've embraced both natures of my being, so… yea. 🙂
So, in the words of a great friend of mine, Jamaal M. Winrow, I ask you:
"Are you sure you want to enter this madness?"